| | | |
| --- | --- | --- |
| |   | The purpose of the Friends is to support and cooperate with the library in enhancing services and facilities in the community. To accomplish this, the Friends shall maintain a membership of persons interested in the success of the Keystone-LaGrange Public Library; promote public awareness of library facilities, services and needs; encourage, solicit and receive gifts and bequests.  |
| | | |
| --- | --- | --- |
| Officers |   | Library Staff |
| Aaron McElwain | President |   | Lyn Crouse | Director |
| Wendi Zwaduk | Vice President |   | Adam Matthews | Marketing & Communications Director |
| Mary Karleskint | Secretary |   |   |
| Iris Tewksury | Treasurer |   |   |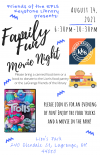 Upcoming Event | Family Fun Movie Night on Saturday, August 14 at 6:30 - 10:30 p.m. at Lion's Park located at 240 Glendale St. in LaGrange. Enjoy food trucks and a movie in the park.  
Bring a canned food item to donate to the Lion's Food Pantry or a book to donate to the Keystone Friends.
Click the image on the left to view poster.
Book Donations | Due to the pandemic, donations are not being accepted at any EPLS location. Donations are accepted at the following locations in LaGrange:
Bellwether Insurance
IGA
LaGrange Baptist Church
LaGrange United Methodist Church
Michelle's Cafe
Village of LaGrange Building Lobby
Book Sale | TBA
Books & Brunch | TBA
By Laws | TBA
Meetings & Minutes | EPLS Friends Board Meetings occur on the first Monday of each month at 6:30 p.m. Meetings open to the public will be announced here. Minutes are listed below.
2021 | January | February 

2020 | January | February | March | April | May | June | July | August | September | October | November | December
Note: Due to the COVID pandemic, meetings are currently held virtually.
Membership | Everybody who uses the library is a friend, but some of us have come together to go one step further. We are making LaGrange and the Keystone area an even better place to live by building a local community organization to support our library's mission to serve those who live and work in the Keystone school district by providing the best possible information and entertainment, arts and literature. We invite you to join us. Learn more. 
View and print the application here.